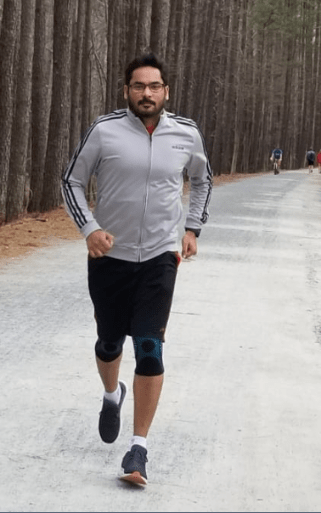 The HDOR platform has truly been a life-changing initiative for me. I used to be very physically active while I was young and actively involved in several sporting initiatives whilst in school and college. As a result, being physically in shape and maintaining it came quite naturally at that age. However, things started taking a wrong turn due to some major sedentary life-style and habits developed, over the past several years. I started gaining a lot of weight and with every passing year, things started getting worse. Around mid-2018, things got so bad that even climbing a flight of stairs had become immensely challenging for me. I knew I had to act and act quickly. I had never been an ardent fan of long-distance running but I knew the only way I can get back in shape was with some good cardio. I started walking towards the end of 2018 trying to turn things around for good. I knew taking baby steps was key, and I tried to push myself to the next level by slowly introducing short distance running into my work regime. Slowly but surely, I started losing weight but keeping myself motivated was an issue and I would often lose focus due to multiple distractions, be it work-related or just plain laziness.
This is when I heard about the HDOR event from a friend in early 2019. Initially, I just wanted to see how many days I could do at a stretch, doing the min 2k mandatory distance without a break. I also read about some very motivational and inspiring stories on the HDOR platform, and how this event had changed several lives in a good way. Slowly but surely, I started getting hooked and surpassed even my own expectations. I had a stretch goal of doing 500 km but ended up doing 850+ with ease. I did the minimum distance every single day, for all hundred days and the results showed in my physique quite evidently. And, I had my wife join me in this initiative – we kept pushing each other on days one of us felt low or wanted to give up. Together we lost around 45kgs and had gotten back to our best shape in years. And this journey taught me that it is not impossible dedicating 30 mins or so daily to such a healthy cause. My lifestyle changed for the good, and even after the completion of the 2019 event, the habit stuck.
Come 2020 and HDOR introduced us to even stiffer challenges. I have signed up this year for the 2020 km challenge with a stretch goal of doing at least 2 km every day (all 366 days this year), come what may. So, far I have maintained the streak this year, running in adverse weather be it rain or snow, while down mild fever and even doing the minimum distance at airports whilst on travel :). This year our son is also joining us for the HDOR event, so there is something more to look forward to. To all those who are on the fence thinking about whether to sign up or not – trust me and take the plunge! Remember – even if you have a decent walking pace all you need is less than 30 mins per day to do the minimum distance. And what's more – the sense of satisfaction you get, at the end, when you look back on the journey is totally worth it!!!