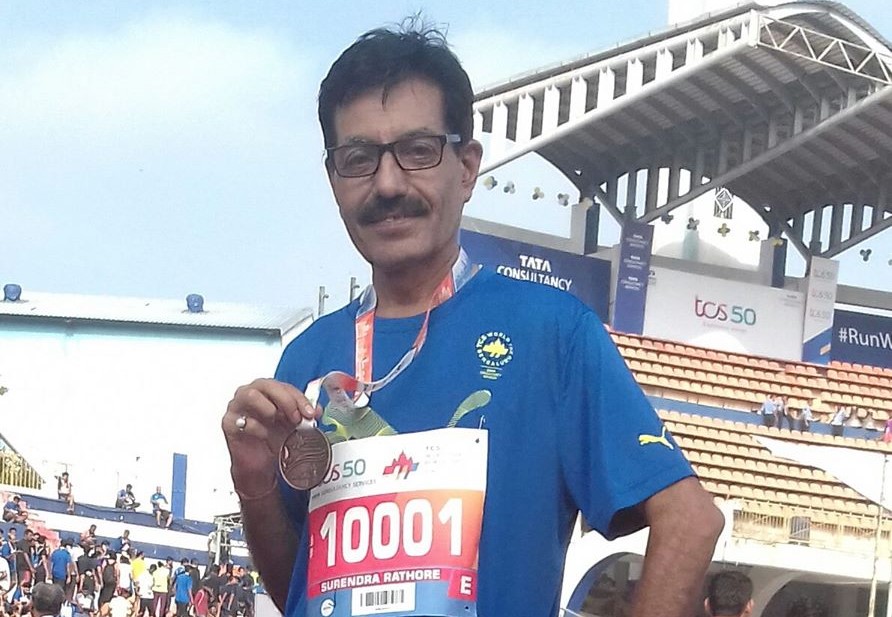 I am Surendra Singh Rathore from Jaipur, a retired officer from Punjab National Bank. Before, I was never into running or any other sports activities in my life. I was a regular smoker for more than 30 years and was looking for some solution to quit smoking and keeping myself fit.
In October 2017 I decided to take running activities to quit smoking and keep myself fit. I was not much aware of marathons and any such other activities. While searching for such activities being carried out in Jaipur I came to know about AU Bank Jaipur Marathon and then I decided to take part in the Half Marathon category which was scheduled on 4th February 2018. Subsequently, I also came to know about 'Cairn Pink City Half Marathon' which was scheduled on 24th December 2017.
The 'Cairn Pink City Half Marathon' was having a quiz program in which I participated and won a complimentary entry in the event. I was not sure whether I'll be able to finish it. Shruti Joshi Pandey from Noida who was one of the pacer for the event and was pacing for 2:45 hours boosted my morale by her wise words, "Age is just a number sir and if u have thought to conquer the distance then it's just 2:45 hrs away".
And finally, I participated for the first time in any half marathon which I completed in 03:01:23 hours.
Even today I regard Shruti Joshi Pandey as my first motivator, mentor, Guru who inspired me to start running.
Since this event, till January 2019 I took part in the following runs.
24/12/2017: Half Marathon, Cairn Pink City Half Marathon, Jaipur.
04/02/2018: Half Marathon, AU Bank Jaipur Marathon, Jaipur.
11/02/2018: Half Marathon, Jodhpur Half Marathon, Jodhpur.
25/02/2018: Half Marathon, HeartWise Walk – O – Run, Kota.
25/03/2018: Half Marathon, Noida Half Marathon 2018, Noida.
08/04/2017: Half Marathon, Daily World Marathon 2018, Chandigarh.
30/04/2018: Indian Marathon – April Challenge 5 Kms+ Daily (Virtual Run) For 30 Days with 234 Kms
27/05/2018: 10 K, TCS World 10K Bengaluru 2018, Bengaluru.
15/08/2018: CYRUNS 1st Indian Running Day Virtual Run with 21.36 Kms.
29/09/2018: 100 Days Triathlon Challenge (22/06/2018 to 29/09/2018) (Virtual Event) With 665 Kms (Running) and 203 Kms (Cycling).
21/10/2018: Airtel Delhi Half Marathon 2018, New Delhi
25/11/2018: PSPB Delhi Half Marathon 2018, New Delhi
16/12/2018: Tata Steel Kolkata 25K 2018, Kolkata
20/01/2019: Tata Mumbai Marathon 2019, Mumbai
By January 2019 besides several running events I have completed official (Timed) 8 – Half Marathons, 1 – Full Marathon, 1 – 25 K run, and 1 – 10 k run.
In February/March 2018 I came to know about 100 Days of running event and without any hesitation, I registered for this. In this event, my goal was not to achieve any mileage but to complete the 100 days of running without any excuse.
Though I clocked only 666 km in the event. I was happy that I did it for the entire 100 days.
And this HDOR event made me a run addict.
While taking part in various running activities I came to know about the first Procam Slam Award 2018-2019 and decided to participate in it. With my maiden Marathon TMM 2019, I became the first person from Rajasthan state to achieve the first Procam Slam Achiever Award 2018-2019. As of now TMM 2019 marathon was my last official timed run, because of some health issues.
I was facing some health issues from February 2019 and unfortunately, on the 12th of April 2019, I was diagnosed with a dreaded ailment of tongue cancer. After a few more investigations, I went under major surgery of tongue and neck on 16th April 2019.
With God's grace and my strong will power, I decided not to miss the HDOR 2019 and I took part in it from 27th April to 4th August 2019 and clocked 880.8 km.
This event made me so strong and I decided to bounce back in the running activities from January 2020.
Hence I started my new year 2020 with the following running activities:
1. HDOR Resolution Run 2020 and stood first in my age category of 60-69 years.
2. "Run as One" Half Marathon, the Virtual Run of the TMM 2020.
3. HDOR Republic Day Run 2020 "Republic Day 26 km" and stood first in my age category 60-69 years.
4. CYRUNS We the People Run on 26th January 2020 covering 21.13 km.
5. HDOR January 2020 Running Challenge. Clocked 778 km.
6. Taking part in HDOR February 2020 Running Challenge.
7. Taking part in the HDOR 100 Days of Running starting 25th April 2020.
I do not believe in getting the first place or making PR but I always try to accomplish the task I take up.
Thanks, HDOR, you made me so strong to compete with myself only.