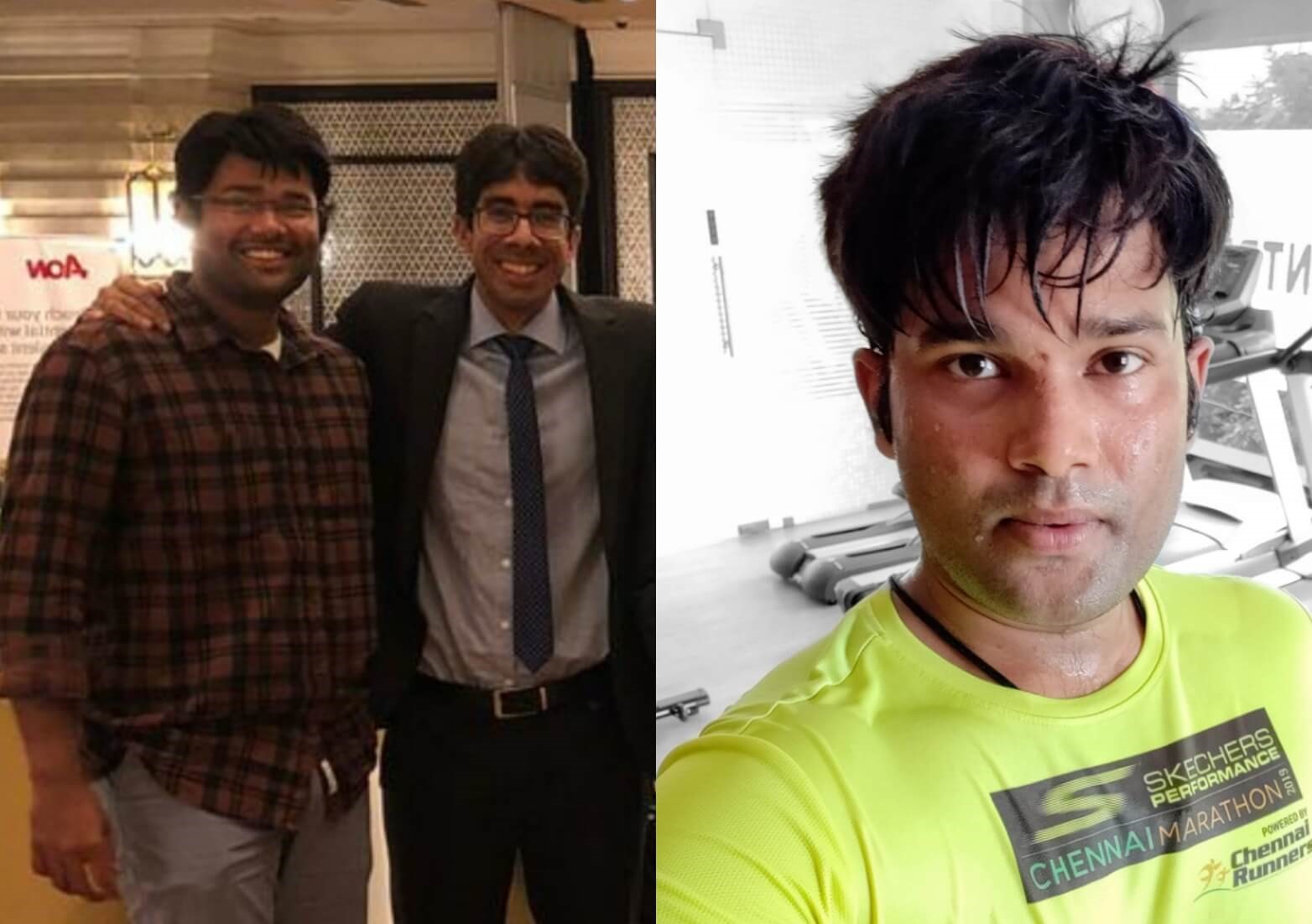 I'm Shriram, from Chennai and I was doing on the field sales which meant there was constant travel within the city and outside the city.
I was conscious of my health but at the same time very irregular to workout, though I was exercising close to 12-15 days a month it was nowhere close to the goals I had in my mind for myself and hence I was stressing out myself.
Before HDOR, I was a very irregular runner. I used to register for events and then train one month before it, specifically for it, and I would complete the activity.
One fine day, while I was at work, I got a message from an old friend, with a link which said HDOR. I was very impressed with the concept of running every day, irrespective of pace.
This made me feel that, okay – here is a chance to get regular. I had no other second thoughts before registering for the event and once done, I sat down to read the rules.
Before I get into the details of the learnings, I want to share that HDOR made me do crazy things in life, which otherwise I would have never done. If I remember correctly – may be the 11th day of HDOR, I had to go out of town, and did not carry my shoes thinking – I will get back that night to run. It kept getting late, and at around 9:00 PM, I realized we had about 120 kms to get back which meant, reaching before midnight was not an option. I was really worried about missing that one day. I got out of the tempo in one toll gate, at around 9:30 PM, and asked the driver to stop exactly after 2 KMS, and I started running, wearing a gold chain, ring, etc on a high way while it was dark. I started running and I could see the tempo that I came in, moved past me and I was running, but the moment I lost sight of the tempo and also came away from the light of toll gate, I realized that "oh shit", what did I do.
I ran and ran harder and at a distance of about 800 meters I could see a tempo with parking light on, and completed the 2 kms.
So, it is not a big deal that if we miss one day but what is more important is that the event helped me stay true to my commitments and helped in giving integrity.
There was no looking back after that; started with a goal to complete 450 kms in 100 days which was a monumental task for me to first "believe in". I ended up with 706 kms (injury-free).
Lots of learning, which I would like to share with those who supported, encouraged and motivated me in this journey.
To me, honestly, this challenge was not about the distance but about the paradigm shift in the thoughts that it has made to me and to all those who participated that if we believe in something and if we take the right actions we will get there sooner or later.
The learnings, I wish to share holds good not only for running but in general towards anything you want to achieve in life.
1) There will be curious onlookers if you let them hinder you – then the life that you want will remain dormant in real and be very active and disturbing in your head. People will continue to be people – judging you for what you do and the way you do. My two cents, learn to smile, say okay and continue.
2) Your excuses are your only limitations and if you didn't know it already, no one cares about it.
3) Success is not in completing the run, it is not a destination; the real success is in following the process and it starts from the decision you take, starts from the moment you stop complaining, starts from the time you put your shoe on and step out.
4) The day you feel you know it all, is the day you will begin to get stagnated.
5) Trust your instincts and act fast, smart and do not play scenarios in your head without attempting anything; even if it is just one step at a time in a day, please keep moving.
6) As and when you start any journey, it is okay to "lookup" to those doing well but never compare your first chapter with their 20th chapter and limit yourself. It hardly matters, if that comparison comes in your mind then you'll hardly see progress.
7) When you're progressing, there will be a point where the paradigm shift in thoughts will come up. What seemed undoable; will be doable and become a routine and what seemed unimaginable will be visible and possible. That's when your sacrifices and discipline must be in its place. The journey towards the goal is not about what you do to achieve it, it is about what you're ready to sacrifice to achieve it.
8) When the shift happens, your targets can go up and you don't have to settle for less because initially, you thought that as a goal.
9) As you progress, do not let appreciations get to your head – It can get you both complacent and greedy. Both are risky.
10) Last, but not the least: Every day is learning, there will be few niggles here and there and you must learn to deal with it, what is important is to not overdo and injure yourself. There will be times when the mind pushes but the body gives up, and the body wants to push and the mind is tired, so mind or body can individually never take the credit for your success, so accept that people around you, you're family, friends are also sacrificing for you. You're never the sole reason for your victory like you're for your failure. So learn to give credits and appreciate what others do for us.