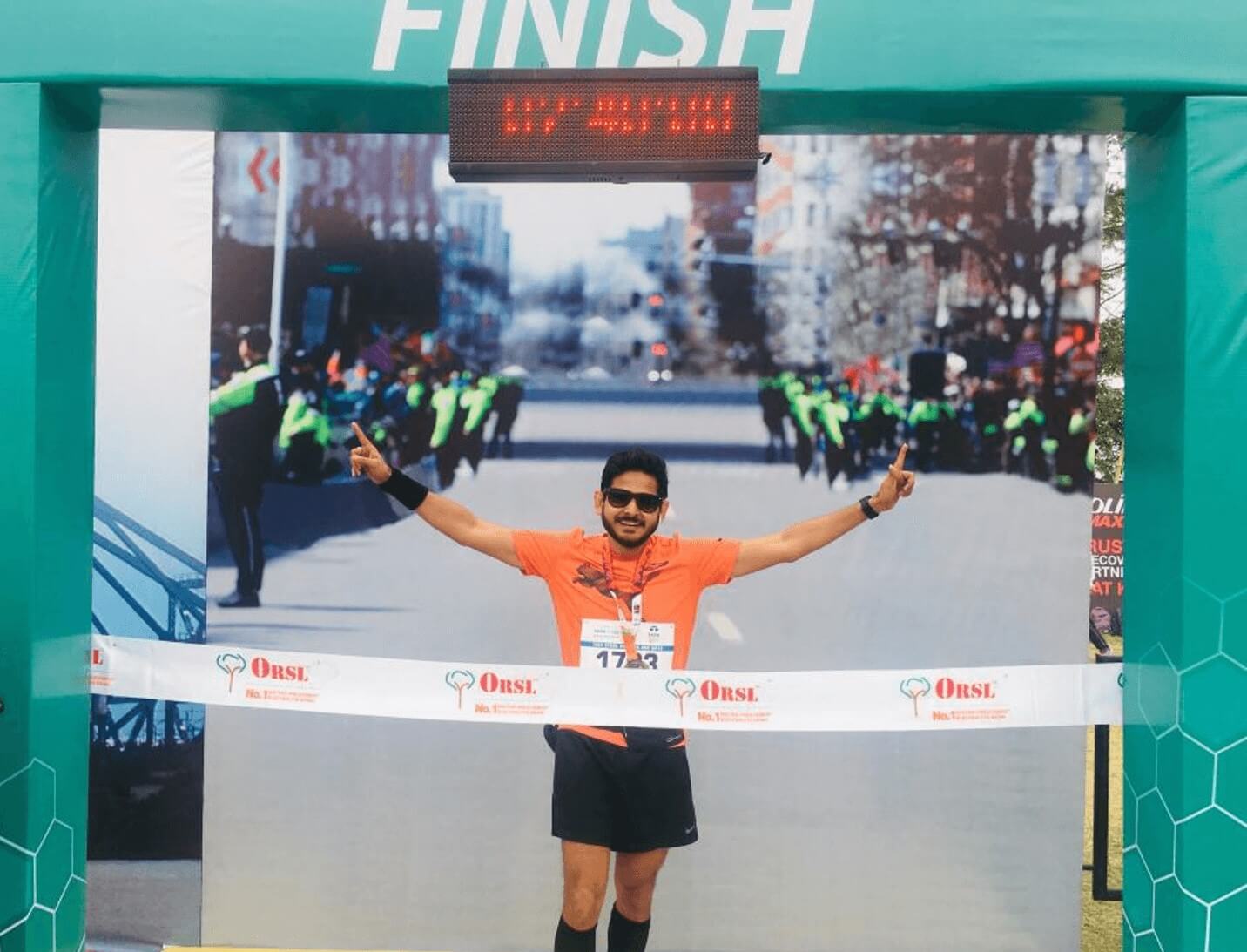 Hi, I am Vaibhav Pandya, a 29-year-old working professional (CA & CS); got married in 2016 and shifted back to Kolkata which is my hometown. I weighed 72 kg back then and kept gaining more at an increasing pace due to my sedentary lifestyle as well as thyroid.
The city seemed a lot changed compared to how I'd left it 4 years back. I tried running for the very first time in November 2016 with Airtel – Run for education.
Like everyone else, I participated just to get the feel of the sport and enjoy the environment. So for me, it was really the crowd that pulled me into it and the craze to achieve a finisher's medal is what pushed me to the finish line.
Now, standing where I am today, the crowd doesn't matter to me anymore because I realize that when you're running, you really can't be with anyone else except yourself. The start line and the finish line may be the same for all but the journey is very different. It is what defines you.
I am now a fit individual with a perfect BMI. The craving to perform better is what makes you practice harder. I always compete with myself, not with anyone else. With every run, I attempt to be better than the previous one.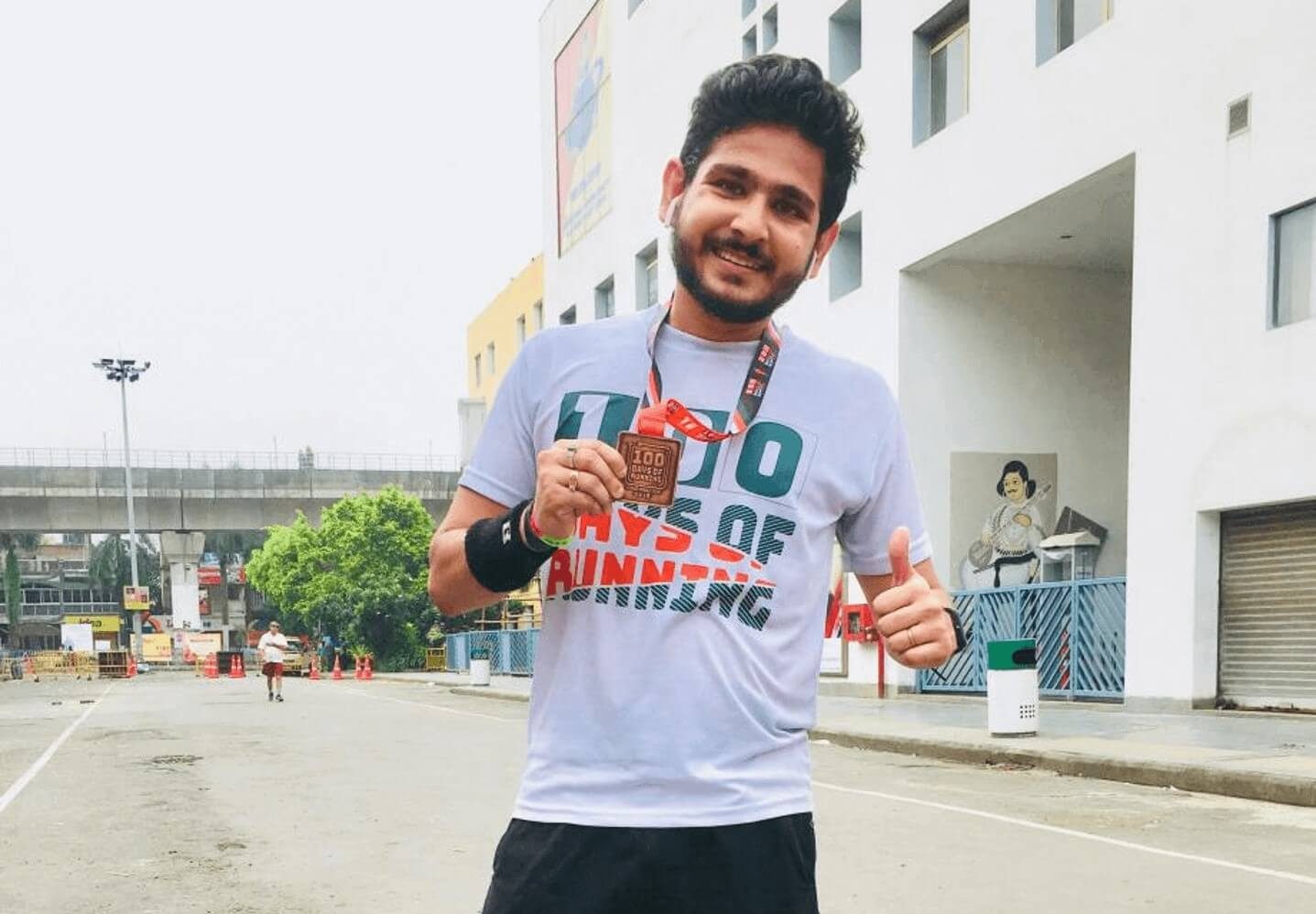 My running journey started when I joined the Salt Lake Runners group
Where I wasn't regular but found many like-minded people and a daily fitness update by all members. It had always kept me inspired, motivated and informed about running and fitness events in Kolkata. I have taken up many running challenges to make the sport a habit and a part of my life.
We're all aware that running is good for us but in the beginning, it's always hard to start something new which our body is not used to. But after a few sessions, you'll realize that your body loves doing it. Something very similar to this happened to me.
The day I became a runner was when I completed the 100 Days of Running (HDOR) Challenge which was an all-India virtual Running Challenge to run 2 km every day come what may!
This challenge was more about strong determination and will-power. During this period (from April-28th to Aug-5th 2018), I had covered 530kms. I'd like to tell you that it was not easy but it taught me many lessons, two of which are, "if something doesn't challenge you, it doesn't change you" and "the body achieves what the mind believes!" So I keep setting challenging goals for myself.
People quit running even before trying and ask me how I do it even with my hectic life
So let me tell you frankly that the 100 days challenge was not easy for me either. In the beginning, I lacked motivation and needed to bribe myself with new accessories to keep the excitement going. Like a fitness band or a mobile armband, waist belt, Bluetooth earphones and other running gear to keep up my challenge. After a point, neither the hot summer sun nor the unpredicted monsoon rains could stop me from running. There were days when we went out for family picnics and returned at 11o clock at night and even after that I went for my daily quota of running. Solo running at night made me more committed to the sport, helped me flush out all the thoughts from the day and get a good night sleep.
Many times, I ran at odd hours because of family commitments parties or office but HDOR made me realize that running is addictive
Now I don't care about anything but my day is more energetic when I complete my run. Running then became a part of my life and it made me a strong individual from within.
Seeing my dedication, my family became more supportive. After a long day of work, my wife Kritika would accompany me for my runs. It was a good time that we spent together. All odds started turning in my favour and I realized that everything works out if you have the zeal to do something.
Running is such an amazing sport where you do not need any team or an expensive setup and it doesn't have any age limit. You can run whenever or wherever you are.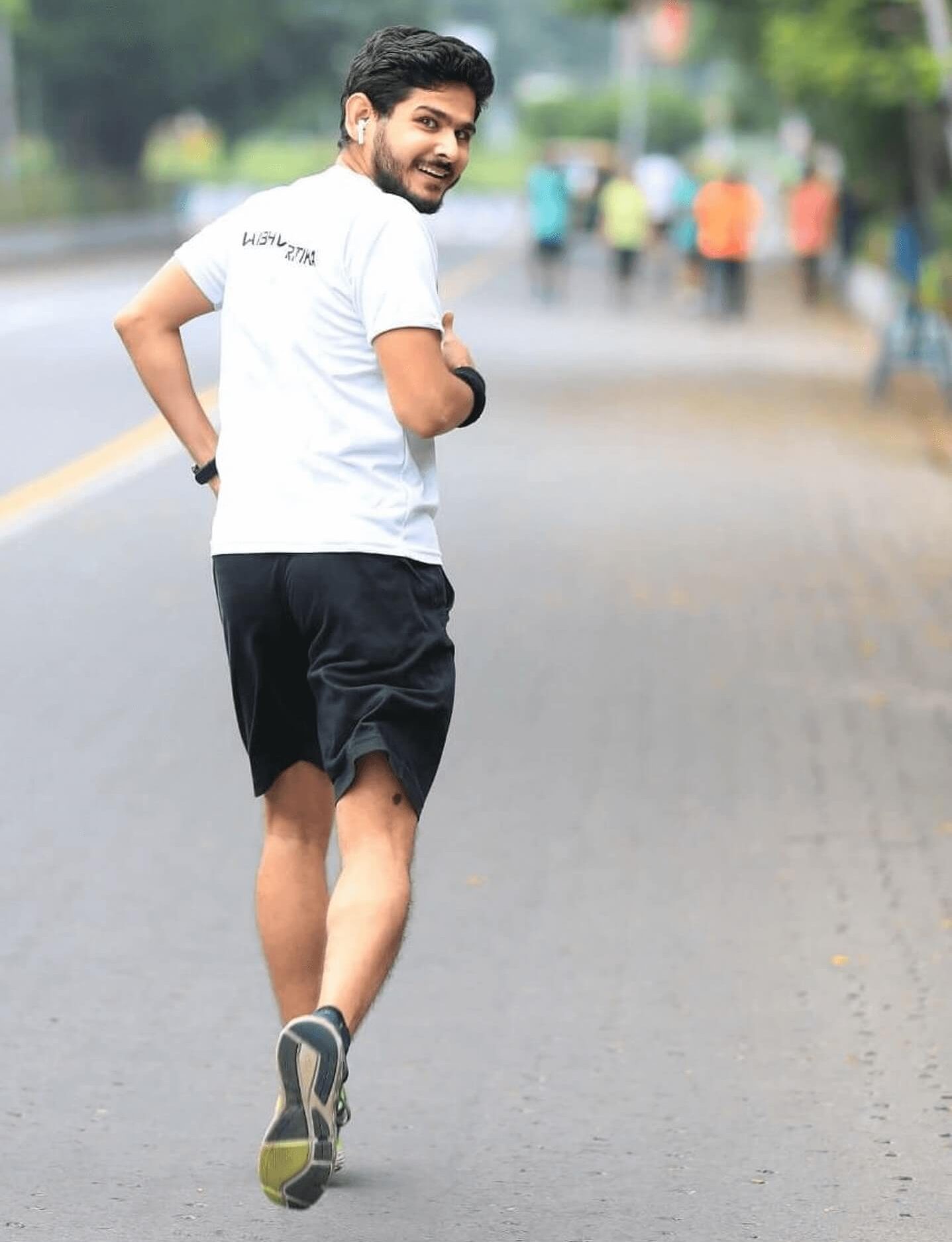 Running is not a task, it is a way of life
There are no excuses for not doing it but 100s of reasons to do it every day. Running is contagious, once you experience it you can't be away from it. Now I am such a run enthusiastic person that I don't want to miss any running event in the city. Have influenced and pulled in so many family and friends to experience it once and continue it for a healthy lifestyle. Now running event is celebrated like festivals and every festival is celebrated with running in my life.
Apart from many proven medical benefits and weight loss, I can confirm certain benefits;
-It gives you a runner's high that no spirits can provide
-It makes you fitter, happier and a healthier person
-It brings you closer to mother nature
-It teaches you to move on in life
-It helps you to be focused and increase concentration
-It helps in overcoming stress or depression
-It rejuvenates your mind and body.
Some Do's and Don'ts from my running experience:
Do's:
– Warm-up and Cool-down – Most important to avoid any injuries
– Be consistent – Being regular is more important than being faster
– Hydrate well – Your body needs fuel to run
– Eat Healthily – Healthy diet is the input your body needs and it will impact your performance
– A sound six-hour sleep – Very important for your body to recover
– Running gear – A comfortable Dry-fit clothing to avoid scarfing
Don'ts:
– Running too fast too soon – will lead to injuries
– Run with a full stomach – it will cause aches
– Compare your timings with others – Every individual is different, challenge your own timings
– Over-train or run – You should know your body limits and do not over-do it