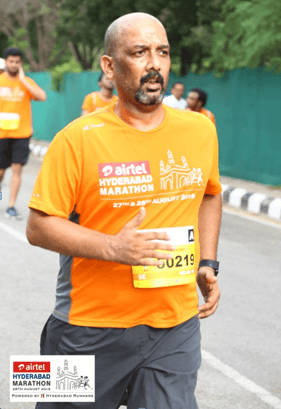 I started running to lose weight and stay fit. Subsequently, I realized that running is a lot more than just being in shape and looking good. Running started allowing my mind to be free and new thoughts started to flow. Running has been a stress buster as I feel good during and after the run.
I challenge myself every day to maintain or get a little better in some way that keeps me motivated during the 100 days of running. While running I have music that keeps me moving. It all comes down to self-discipline, combined with keeping the healthier lifestyle and quality of life in mind. Running is a time for just me and I can process things, and I can get away from the stresses of life and just have it be about me and the road, and not have to think about all that's on my "to-do list.
Successful completion of 100 days of running puts a smile on my face. Especially after completing the 100th day. Sometimes there is nothing better than the satisfaction of another goal met, the race ran, and mission accomplished……"come what may"!