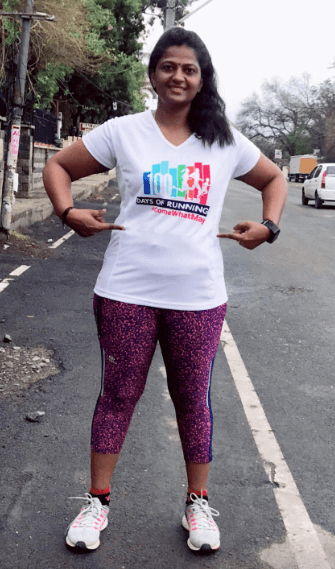 I became so obese after my 2nd Pregnancy. I was a foodie and I used to crave for food. Then in my mind, I thought why I have become like this and what made me like this. I was constantly pulled for being fat. Then it became a challenge and eye-opener for me. My spouse who had given permission to go for a walk and then started my walking phase in 2015 December. I walked so many miles, the day I started my habits changed and disciple in food and fitness started.
I was an athlete during my younger ages. I felt bad and decided to bring my older days back. I took my spouse for a walk and made him come out and de-stress himself. We complemented each other, made diet plans. Followed the disciplines of getting up early morning for a walk/jog followed the day packed with the whole diet to lose weight. I became crazy and followed the same healthy habits and here I stand now. Done with many marathons and one big achievement for 25 km hill run in 2017.
We heard of '100 Days of Running' from our local group. Registered started to run just to maintain consistency to make a regular habit. I was in the top 100 categories of women in 2017 and this is my continuous 4th year. I would say running /routine work out changed our life to the core.
Happiness is because of running and all that because of the better half and my close friends who motivated and supported all through!