Dr Sharmila Pandey shares her running journey in her own words:
I was a practising doctor by profession until I got married. Life completely changed after marriage; there were responsibilities towards family and children. All I cared for was them until my elder daughter Aabha got independent. Suddenly it clicked me to decide for myself, think about myself also because it was high time. The advertisement of Tata Mumbai Marathon which was some years back known as Standard Chartered Marathon inspired me to once again get into sports which were always my passion.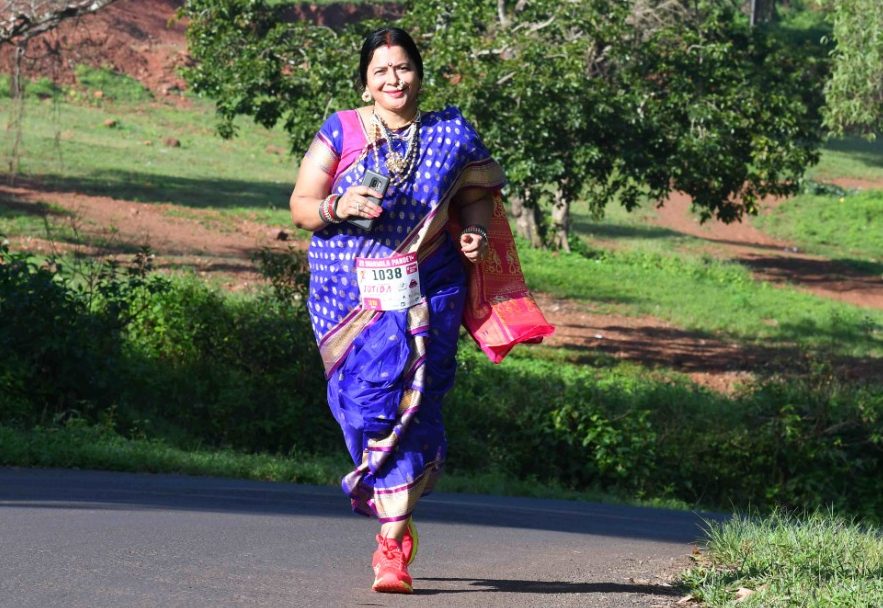 I started my journey of Marathon at the age of 44 years in Feb 2014 with successful completion of half marathon. I am aiming to finish as many as runs.
– Till date completed 102 official runs (10k, 15k, 21k, 25k)
– 88 Virtual Runs and many associated awards
– Daily Trekkings Daily activity
– Interviewed by a Youtube Channel Women TV India, Run by women for the women.
– G Town Awardee
– Rappelling
– 100 km Oxfam Walk
– Ultra 6 hrs Run
– Have won awards for "Queen in the Making", "UNIMO Indore", "I.N.S.P.I.R.E Beyond Motherhood – Sportsperson of the Year", "Successful Women Award-2017", "Rangoli Award -2019", "Kalyan Sports Recognized Awards"
– Guinness World Record Holder in Plank Challenge and Backward Race
– Completed this year "Kailash Manasarovar Trek"
– WOW 2019 Award by Mumbai Moms
– Fitness Freak of the year Award
-India's Sparking star Awards (Sports and Fitness Category)
– WEAA Award for Fitness Freak and Sports
– Devil Circuit finisher for consecutively 3 years
– IIWA AWARD
– Dr Sarojini Naidu International Women's Award 2020
– Forever Star India Awards for the Real Superwoman 2020
– Rangoli Award 2020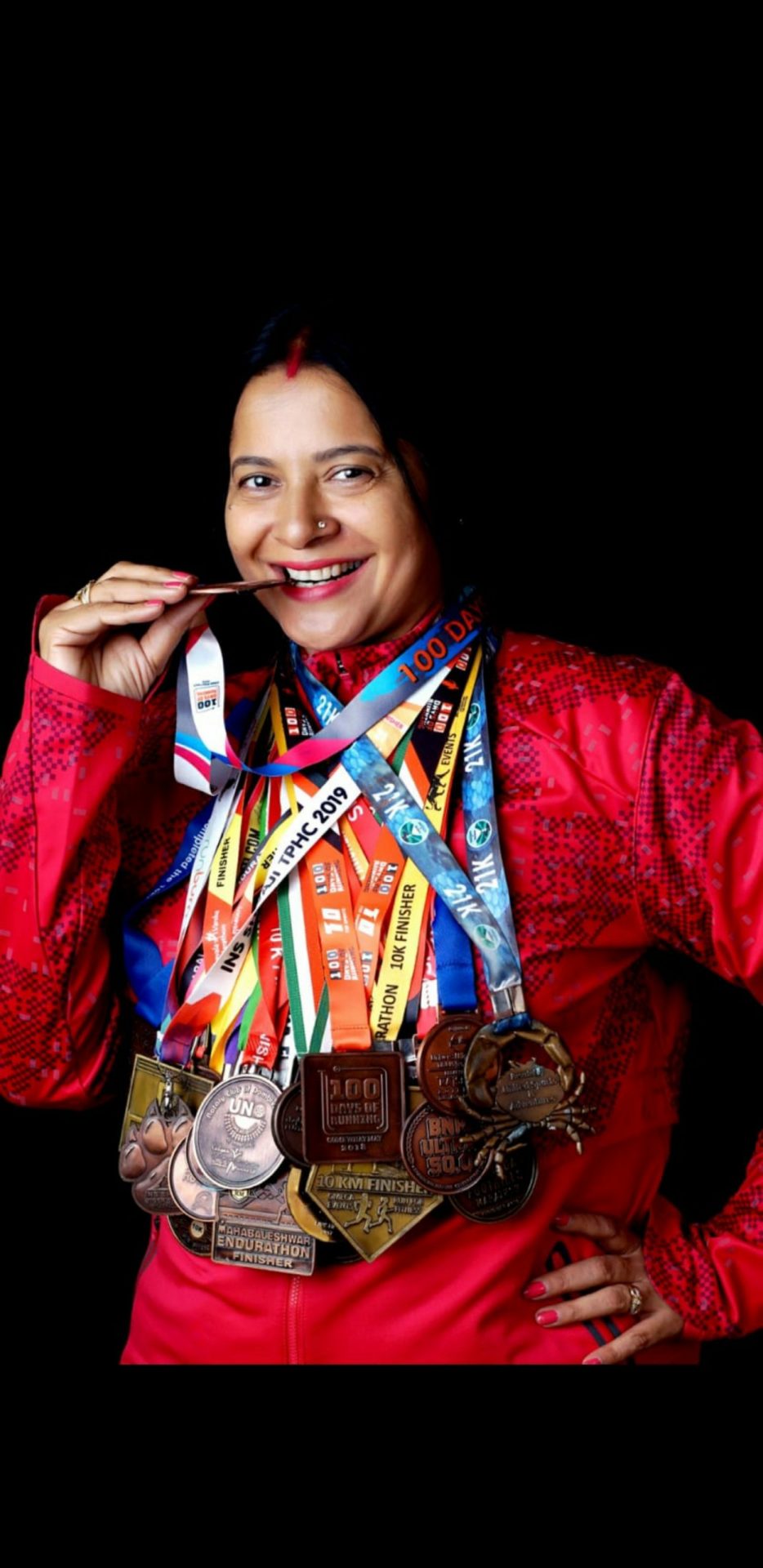 In 2018 one of my friends suggested me to take up the 100 Days of Running Challenge. Since I used to anyways practice for the marathons, my friend told me that undertaking this challenge will give me double benefit as I'll continue to practice regularly and shall also get rewarded with a medal and a certificate.
So, I joined the event and did the first year. Later in long run, I realized that it was very beneficial for me to do the regular runs as it increased my pace and also mentally I was very active. I then decided to do it every year.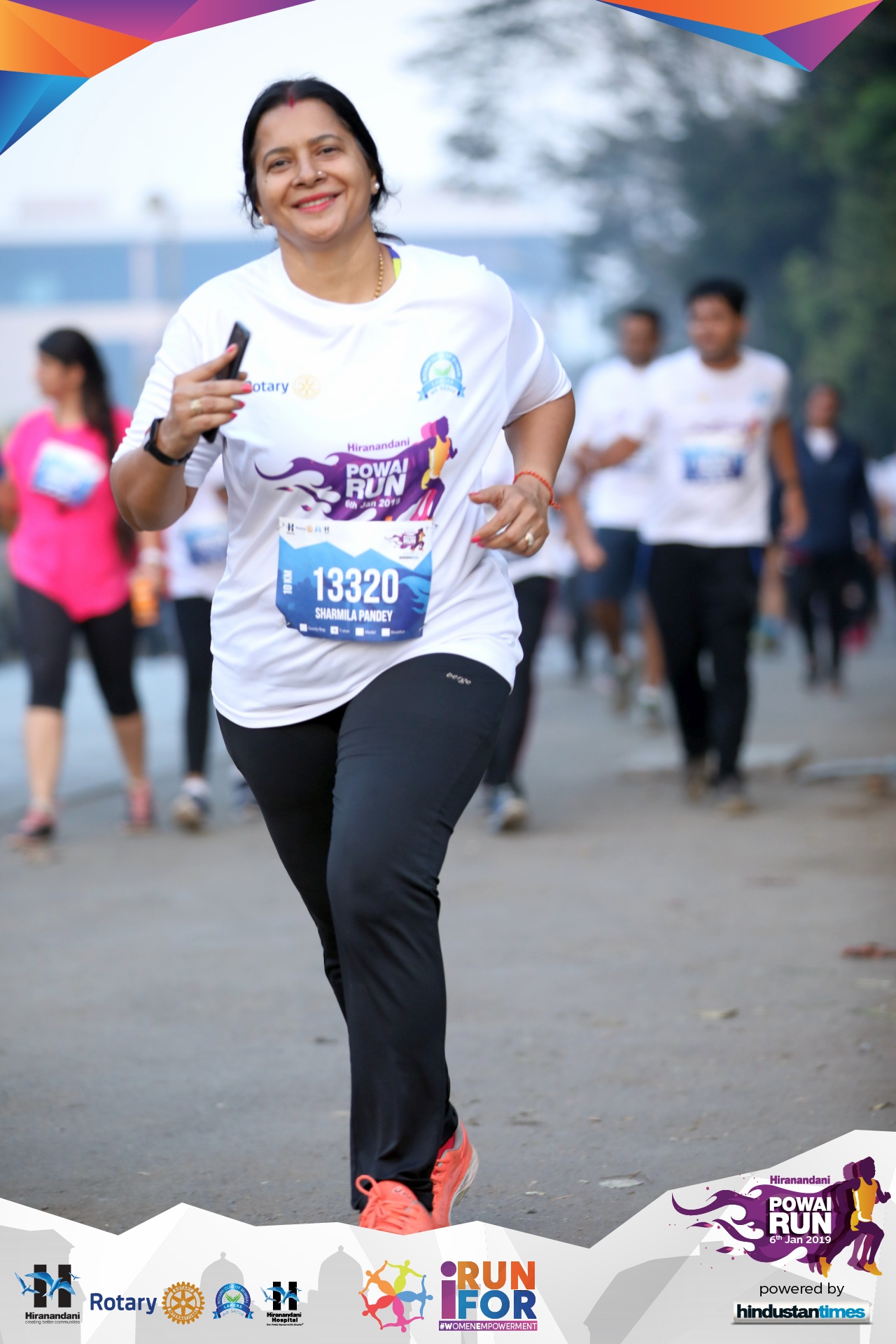 The uploading of the details and the rewards in return were the best. My experience with the team was great without any technical issues. The team was always active and ready to help if it was needed. I recommend the 100 Days of Running challenge to people of all age groups as well as for those who are just beginners since it will boost your confidence and you will always get support from the community as well.
I believe focusing on your skills is very important, whether it's working in the kitchen, running a household, working on the trading floor, etc. You can do anything at any age; all you need is focus, determination and stubbornness to fulfil your desires and pursue your passion. Optimism is the faith that leads to achievement. There is no limit to what we, as women can accomplish.