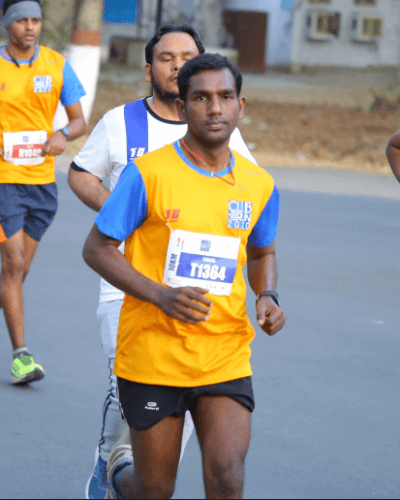 I'm a Physiotherapist and Fitness Trainer. I attempted '100 Days of Running' 3 times and in which I failed for two times. I committed to complete the third 100 Days of Running without looking for excuses. I ran irrespective of rain or summer heat, morning and at night.
Challenges:1
During challenge Period I went for trekking at Dudhsagar where we were supposed to trek for 10 km but I determine to run at least 2 km. Somehow organiser did not allow me to run. I planned to run after reaching the camps but it's time already 10 pm and it was raining cats and dogs. I wore shoes and completed 2km, which made me so joyful on that specific day.
Challenge:2
I went to Delhi to attend a conference for four days, where I ran three days successfully but busy with workshop on the fourth day. I didn't get time to run in Delhi. My flight was at 7 pm from Delhi to Hyderabad. I thought that I can run after landing at Hyderabad. The flight reached by at 10:30 pm and we got a cab around 11.15 pm. After reaching my home, only 10 minutes were left to finish 2 km run before the day finished. I requested car driver to stop aside for 10 minutes on the outer ring road and the other passengers looked at me as if I was crazy.
With the same formal dress, I ran 2 km in 9 minutes that is I finished under 11.59 pm before the next day started. There have been many challenges which I overcame during those 100 days of running but these were the special ones.
Because of 100 days challenge, I improved myself in my thought process and in performance levels as well in Running. I completed 10 days*10km successfully and finished Half marathon under two hours.
Thank you so much for the team HDOR.
Also, my special thanks to my wife, who encouraged me to complete the challenge especially at the airport journey, Delhi to Hyderabad.