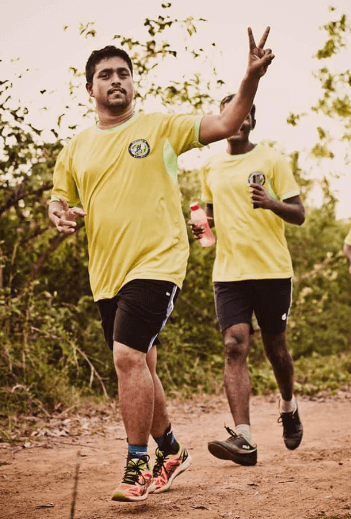 My running life kickstarted in early 2016 and in the second half of that year I was actively looking for running events to register when I came across '100 Days of Running'. The idea and story behind the event was very fascinating and I got hooked up immediately. But, it was already August by then and mentally noted down for attempting #100daysofrunning in 2017.
In early 2017, I planned to run a full marathon by end of the year and registered for Bengaluru Marathon which happens in October. The FM registration was done in April 1st week and the same day I also registered for 100 Days of Running too. Believe me, the first year was full of pain, noise, cramps and lots of fun too. Runners from Chennai were in good numbers and it was good to see many of us in the leaderboard. Many of my running friends noticed about it and enquired about the event and my continuous running streak.
During HDOR period, I ran a 6-hour stadium run (in HDOR tee) and also cracked the very elusive 10k under 60 minutes in our family event: Dream Runners Half Marathon (#DRHM). The last day was a tough hill run at Javadhu 25k for which HDOR was a real base. HDOR also gave a solid base training for the upcoming full marathon in October.
Over to 2018: This time, I had pulled a lot of attention from our teammates and we registered as a team (Medavakkam Dreamers) and had fun. Again, one more stadium run and my new 10k PB (52:58 at #DRHM) happened during the HDOR phase. HDOR gave me a very solid base for my FM again in October. All 15 of us in our team finished the last day of HDOR with a gala fun run. I think I ran 19k in 2:02:02 on the last day of HDOR.
Over to 2019: This time, I was in a dilemma whether to continue or not. By now, we have several colleagues in the office who were very interested in HDOR and I joined the gang again. This time it was another 25 member team (FLS Joggers) and great inspirational stories happened in those 100 days. And my wife completed 100 days successfully too. Looks like I inspired her too.
Over to 2020: Our office team got expanded and now we have close to 100 runners together in the team aiming to crack the 100 days jinx. For me, it gets challenging every year and would like to maintain the clean record of running all 100 days for the fourth consecutive year.
Featured notes:
-100daysofrunning brings real discipline in running.
-I have done many runs in the midnight, in really odd places like real long jog/walks in Chennai Central station for around 90 minutes etc, Walk and walk around Houston airport terminals for 1 hour….been there and done many such odd things.
-back to back midnight runs (One run starting at 11.30 PM until 12.30 AM and second run starting at 12.30 AM until 2) and many other adventures to keep the streak alive, while singing, dancing with canine friends and running away from them most of the time.
-I have never pushed in these 100 days. Always, my 100 days mileage will be in the range of 600-700 Km which is the best I can do. It is better to be safe without injuries in the summer months with less mileage.
-On my rest days, I mix up jogging and walking.
-A humble request to those attempting HDOR: This is not a race against anyone…just between you and you only.
-HDOR should not be looked as full 100 days. It is better to take it 10 days at a time and the daunting task will definitely look smaller.
1st Edition: Tanvir ran alone. 2nd Edition: Tanvir ran along with his friends. 3rd, 4th and 5th Edition: Happy to say, I too ran 100 Days of Running.
6th Edition: This year too, I will put my best efforts to run/jog/walk all 100 days and keep my streak alive. Hope the best.
Have fun and run safely.